Florida - Florida real estate for sale - Cape Coral real estate purchase - market trends
After a tremendous boom in the US real estate market, real estate prices collapsed dramatically in 2007/2008, particularly in the California and Florida regions. The following chart shows the development of real estate prices in the 20 metro areas of the USA - an incredible boom followed by a crash in real estate prices in 2007-2009:
A look at the Case-Shiller House Price Index since 2000 clearly shows the development of the devastating real estate bubble in the USA, which peaked in July 2006 at 206.52 index points. House prices doubled between 2000 - 2006, after which the bubble burst caused by massively increasing interest rates. After the expiration of government aid to stabilize the real estate market in April 2010, the negative reaction came promptly: in March 2011, after a significant interim recovery, a new low was reached after the outbreak of the crisis (double dip). In December 2011, a new low in average US real estate prices was noted and a third low of 136.64 points was reached in March 2012 (triple dip).
Since the beginning of 2013, there have been clear upward outbreaks in real estate prices on a broad front. Since its low after the real estate crisis in March 2012 (136.64 index points), real estate prices have recovered very significantly. The current S&P Case-Shiller House Price Index of the 20 metro areas shows that in January 2018 the price level almost reached the peak of the real estate boom in 2006. The statistical data usually comes two months late and refer accordingly to the situation two months ago. 
Even the Corona pandemic has no negative impact on the price trend of real estate in Florida. On the contrary, real estate prices in Florida continue to rise steadily and are in an intact upward trend. In July 2021, home prices increased 19.2 percent from the same month last year, according to the Federal Housing Finance Agency (FHFA). A declining inventory of homes, a running out of land and historically low mortgage rates will continue to drive prices higher in 2021 and 2022. More and more people are leaving the metropolitan areas of the U.S., companies are settling and are boosting real estate prices significantly. The rise in remote work caused by the pandemic will continue even after the pandemic is over, focusing many people's attention on the Sunshine State not only as a vacation spot, but also as a permanent residence. This will have a bullish effect on the Florida real estate market in the short and medium term.
Again the advice from T. Harv Eker: "Don't wait to buy real estate, buy real estate and wait."

If you want to invest in U.S. real estate, the search for a suitable property is very simple: Almost all properties for sale are listed in a central database (MLS). Therefore, ask an experienced broker you trust to look for a suitable house, apartment, or vacant land.
Search for your Florida Property now!
Real estate prices in Cape Coral are still below the top of 2006
In Southwest Florida, real estate in Cape Coral was hit especially hard after prices had literally exploded during the previous boom years. As most buyers had financed Cape Coral properties on a short-term loan basis, many homeowners experienced increasing financial difficulties as interest rates subsequently rose. While real estate prices in the U.S. have only been recovering since 2013, the turnaround in Cape Coral, Lee County, was already initiated at the beginning of 2011.
A comparison of property prices in Cape Coral using the chart below shows that the percentage increase in property prices in Cape Coral since the beginning of 2012 has developed almost in parallel with price developments in Miami or Naples, but at a significantly more favorable price level. The chart also shows that prices have now returned to the highs of 2006 and in some regions have significantly exceeded them.
Real estate prices (off-water homes) Cape Coral - all years of construction
In October 2010, the average price for an off-water home with pool in Cape Coral was $136,000 and in January 2020 it was $270,000. In January 2021 the average price in Cape Coral was $330,000. In a 12-month comparison, prices in Cape Coral for an off-water pool home rose 22,22% from January 2020 to January 2021.


Trend: Overall, the market in this segment is in an intact upward trend since October 2010.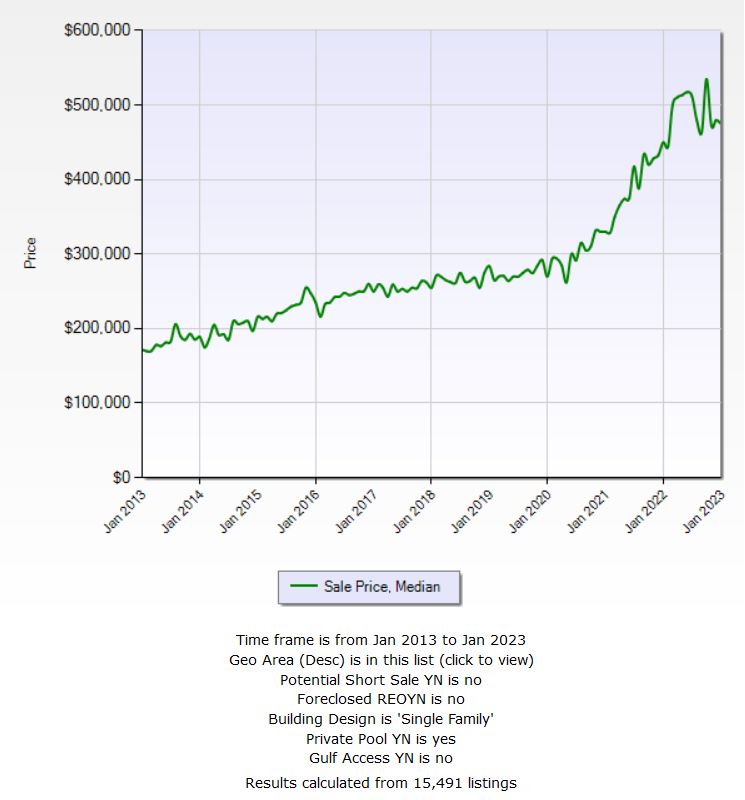 Real estate prices (Gulf access homes) Cape Coral - all years of construction
After the peak of over $700,000 at the time of the hype in February 2006, prices bottomed in August 2011 at $295,750. In January 2020 the average price for a Gulf access home in Cape Coral was $489,000 and in January 2021 it was $619,000. In a 12-month comparison, prices in Cape Coral for a Gulf access home rose 26,58% from January 2020 to January 2021.


Trend: Overall, the market in this segment is in a strong upward trend since August 2011.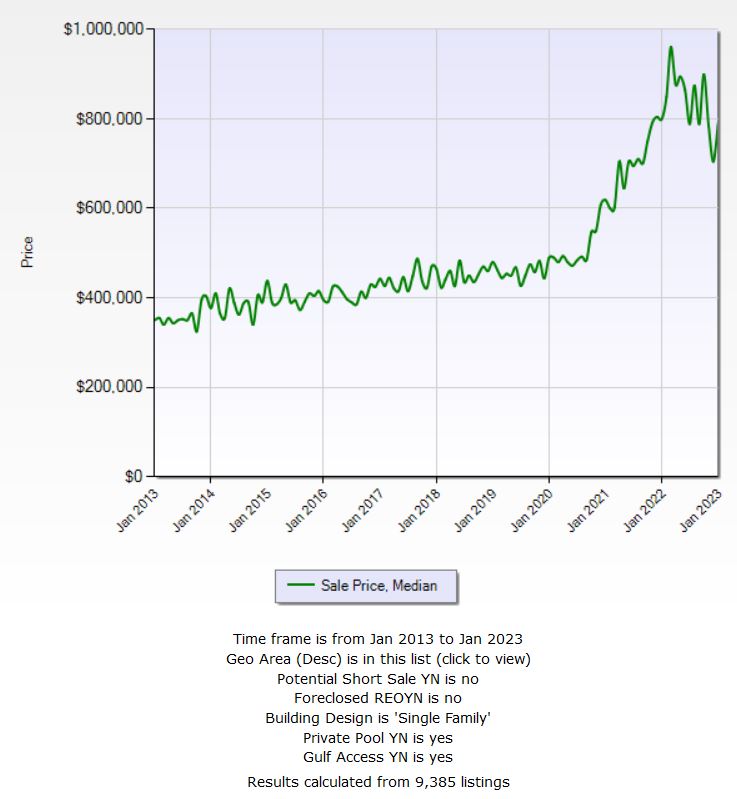 The purchase of a Cape Coral property still represents the entry into a consolidated and sustainably rising real estate market, as US buyers are returning to the market. For a successful real estate investment, a low purchase price play an important role, but above all the choice of the right location with corresponding upward potential.
Off-water Homes in Cape Coral in good locations - starting at $350,000
Existing properties without access to the Gulf of Mexico can be purchased for $261,000 (average location).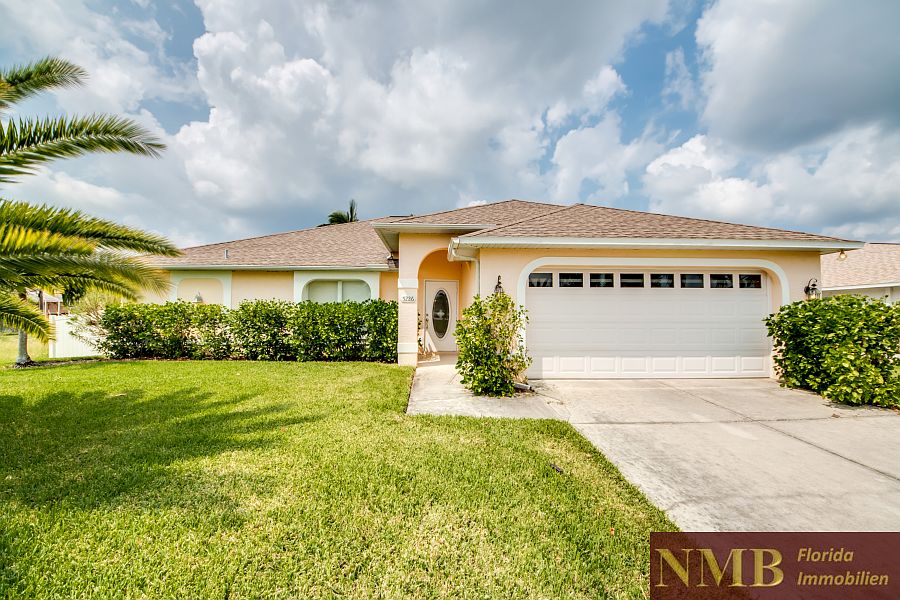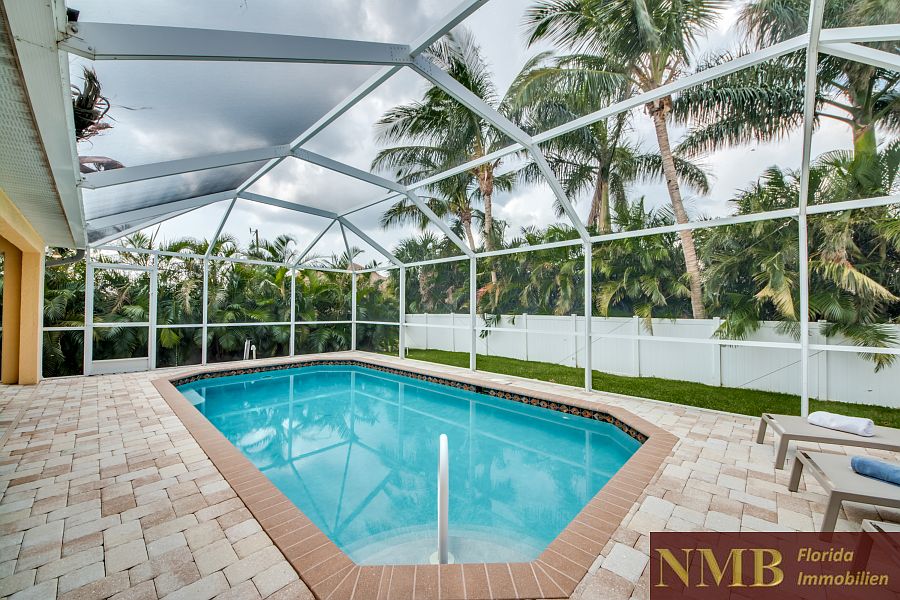 Gulf Access Homes in good locations - starting at $480,000
Existing properties with access to the Gulf of Mexico can be purchased for $420,000 (average location) or $480,000 (good locations).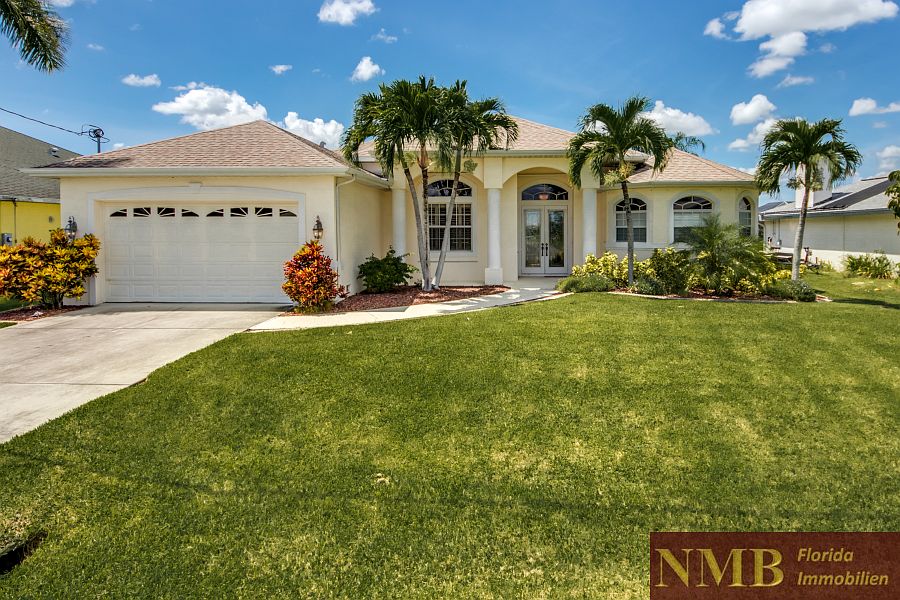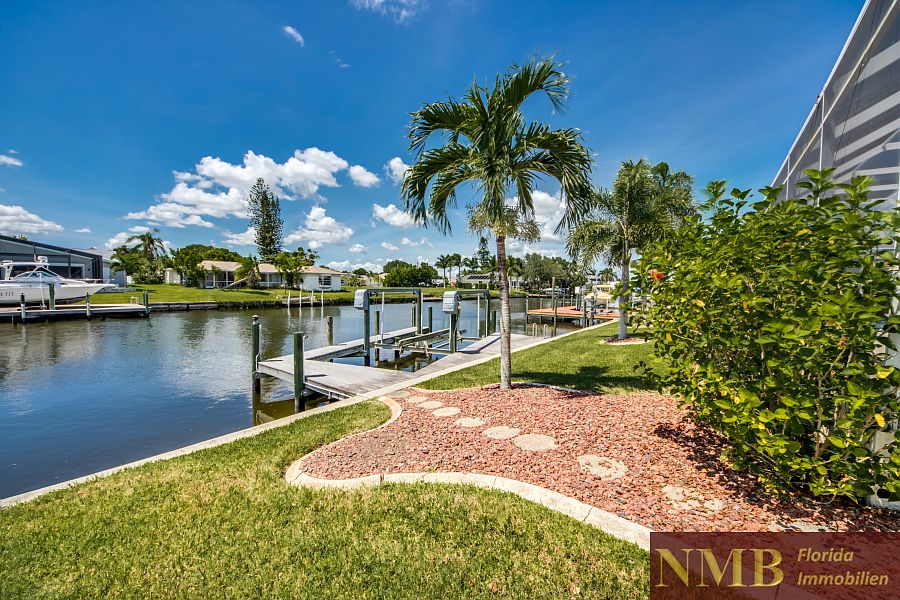 New Construction, Gulf Access Home, good location - starting at $600,000 (lot included)
New construction with Gulf access can be purchased for $600,000 (lot, 3 bedrooms, 2 bathrooms, Pool, 3-car garage, boat dock, boat lift)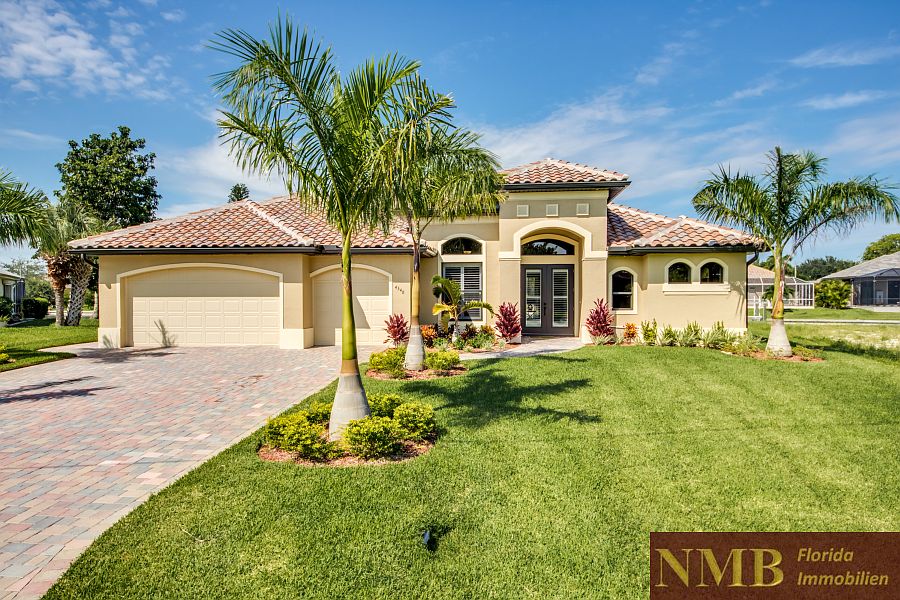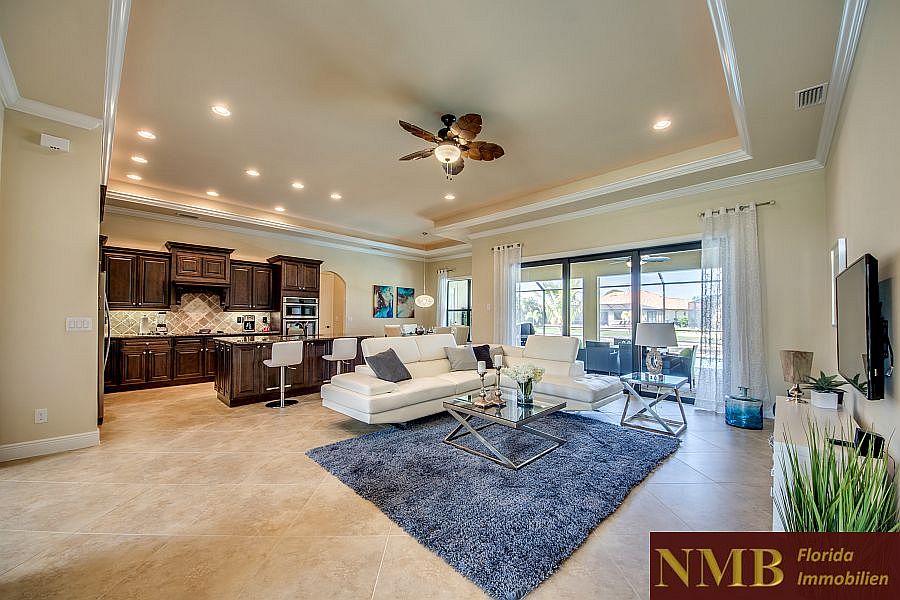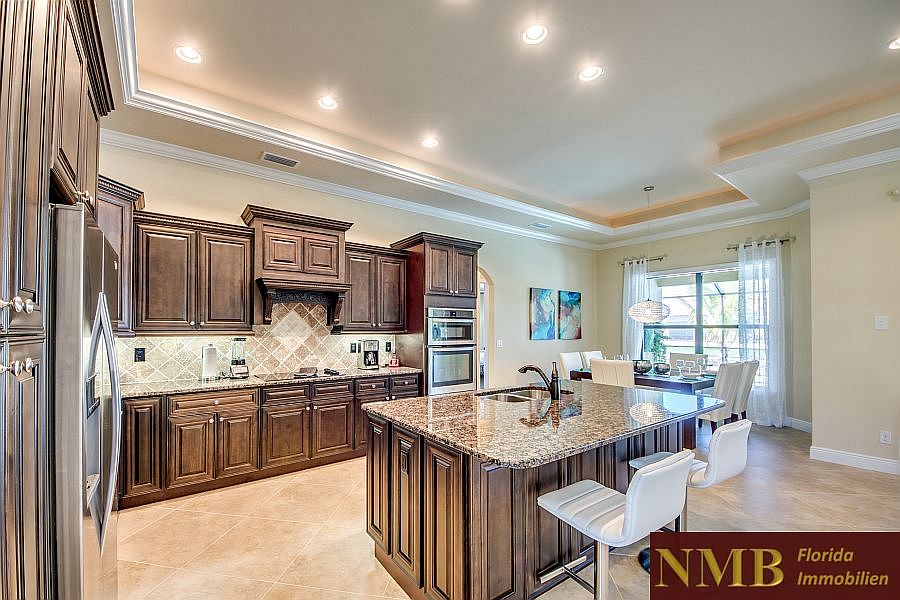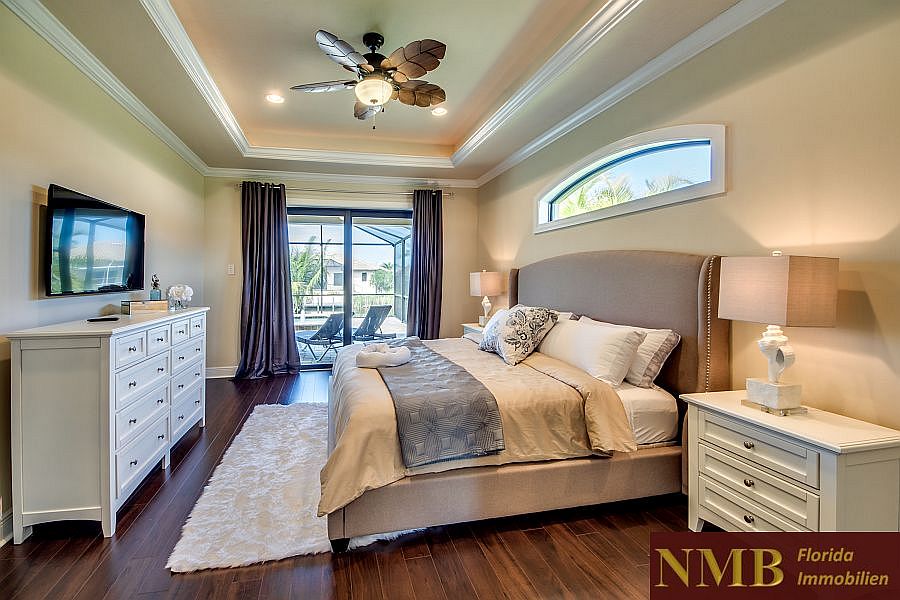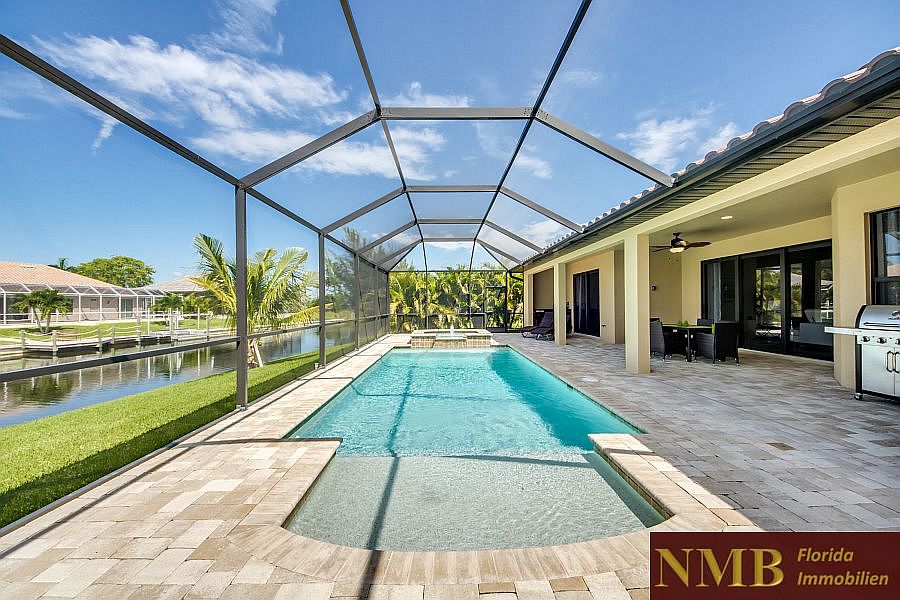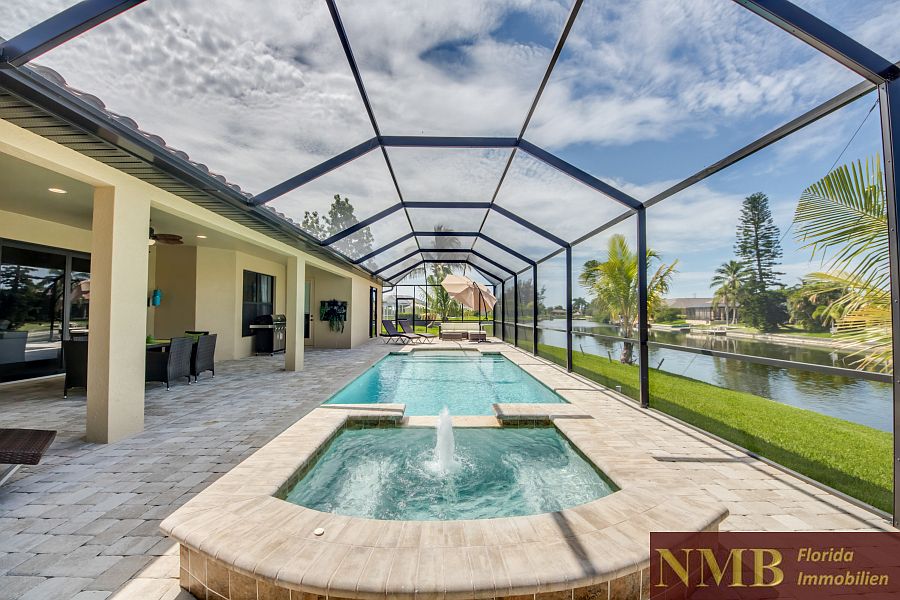 When is the right time to buy a property in Florida?
The supply of properties in the upper market segment in good locations in Cape Coral with boat access to the Gulf of Mexico has declined rapidly and the construction of a new home in Cape Coral, Florida is once again becoming the focus of investors.
Many prospective buyers with a budget of $600,000 or more therefore choose to build in Cape Coral, as our current sales in 2018, 20219, 2020 and 2021 show. Today many investors in Cape Coral purchase waterfront lots with boating access to the Gulf of Mexico in good to very good locations (lot price from $200,000 upwards). If you decide on an off-water lot in a good location, you have to calculate around $90,000 as the purchase price. For a new home in a good location you have to calculate $500,000 (incl. lot, house and pool with spa), e.g. the vacation home Coral Cay. In 2009, the following sentence stood at this point on our website:
In 5 years, you will look at the price index with the usual remarks: 'If only we'd bought', but with "if" or "should have" nobody has become rich - ever.
Today we can say that our statement at that time has become reality. While a few years ago the exchange rate was still very favorable for the European buyer ($1.40 - $1.50 for a EURO), this additional cherry on top is melting away when buying U.S. real estate today. Currently (September 2021) the exchange rate is $1.17 for one EURO. In January 2017 it was even as low as $1.05. Renowned investment bankers even forecast the dollar/euro parity in the foreseeable future. Goldmann Sachs went far out on a limb by forecasting $0.85 for 1 Euro - a more than unlikely scenario and far away from now. The exchange rate forecasts for the coming years range between $1.16 and $1.25, with the upper forecast limit already tested in January 2018. The interest rates by the Federal Reserve will be very moderate in the future, despite rising inflationary trends.
In March 2010, we already emphatically pointed out the expected price increase and exchange rate development in our BLOG (http://www.nmb-florida-realty.com/blog/2010/05/immobilienmarkt-cape-coral-florida-marz-2010/). In 2012, too, the risk of rising prices and the devaluation risk of the EURO was again highlighted (http://www.nmb-florida-realty.com/blog/2012/03/immobilienkauf-cape-coral-preise-steigen-im-februar-2012-weiter/). Both forecasts have now come true and the dollar became even stronger than expected.
Since May 2020, however, the upward trend of the dollar has ended and a clear trend reversal has been initiated to the advantage of European buyers. However, those who had waited for a downward trend of the dollar in order to invest in a Florida real estate find themselves severely disappointed. The today again advantageous exchange rate for the European buyer was more than wiped out by the price increases of the Florida real estate market. While the Dollar has declined by 10% since May 2020, real estate prices have increased by 20% since 2020. Again, one can only repeat the citation made at the beginning, "Don't wait to invest in real estate, invest in real estate and wait."
Despite the still moderate level of real estate prices in Cape Coral compared to European real estate, the inventory in good and very good locations is getting less and less. A non-professional can hardly assess the situation without the help of a professional. Therefore, a prospective buyer should always seek the advice of an experienced broker (Realtor®) when buying a property in Florida. Please read our information on the U.S. brokerage system.
At the time of the 2008-2010 real estate crisis, it was undoubtedly possible to make real estate bargains in Cape Coral, Florida, if you knew the real estate market exactly and followed the rules of the game. During the housing crisis, a huge amount of homes had fallen to the banks through foreclosure, for sale at a low price as so-called "bank owned properties" (REO). However, the boom in short sales, foreclosures and bank owned properties is now over. Banks have largely reduced their non-performing portfolios.
In 2021, you are facing a drastically declining real estate inventory with rising prices and must be very quick in purchasing decisions as listed properties are rarely on the market for more than 30 days before selling. As a licensed Florida real estate agent, a REALTOR®, we organize and arrange for you all inspections, appraisals, deadlines, tax and financing issues necessary for a real estate purchase or new construction in Florida, without burdening you with these issues. We are on site for you.
If you want to be on the safe side, you buy a house that is still inhabited, carefully maintained by its owners and in top condition and in a top location - even if at first glance it does not seem to be a "real estate bargain". In the medium and long term, however, these properties usually turn out to be the real bargains with above-average price increases only due to the price increase of the property in a top location.
What must be considered with supposed "bargains" in Cape Coral?
The "bargains" are usually in a more or less desolate condition if they have been vacant for some time. To save costs, the owners leave the properties to themselves. Usually the outside facilities are in a bad condition, the palms have dead fronds, the once well-kept lawn is a picture of misery, the pool water has turned green, the air conditioners have been out of operation for weeks or months. This means that follow-up costs can amount to several tens of thousands of dollars. Also, we are here to help connect you with professional companies in our network and organize all necessary formalities of a real estate purchase or a renovation of your property.
Tip:
If you want to fulfill your dream of a Florida property today, make sure you secure your financing and choose an experienced real estate agent with excellent references who will keep you informed on a daily basis. If the property of your desire appears on the screen, you must be able to act quickly - talk to us.