Real Estate in Cape Coral
There are many reasons to buy a property in Cape Coral. On the one hand, after several vacation stays, you may have fallen in love with the area and decide to fulfill your dream of owning a vacation home. On the other hand, investment considerations lead to the acquisition of a property in Cape Coral as a vacation home. Both approaches are of course also aimed at investing one's capital profitably or at least in a way that preserves its value. For this, the targeted region has to meet a number of basic requirements:
low unemployment rate
high growth in jobs
above-average influx of new residents
moderate real estate prices in relation to wages
decreasing real estate supply with high demand
attractive location (leisure activities, many sunny days, beach, schools, universities etc.)
low crime rate
High demand as an international vacation destination
Based on these criteria, the purchase of a property in Cape Coral is an obvious choice: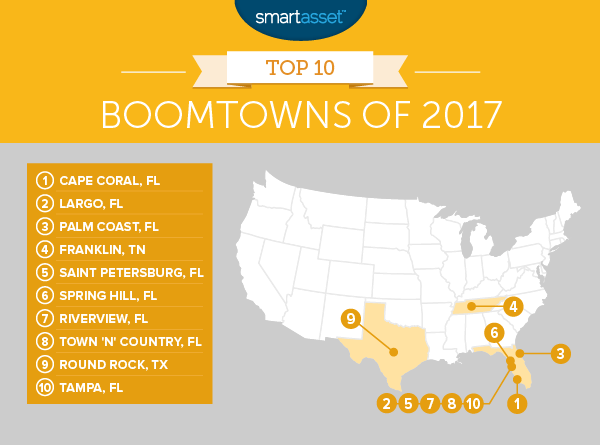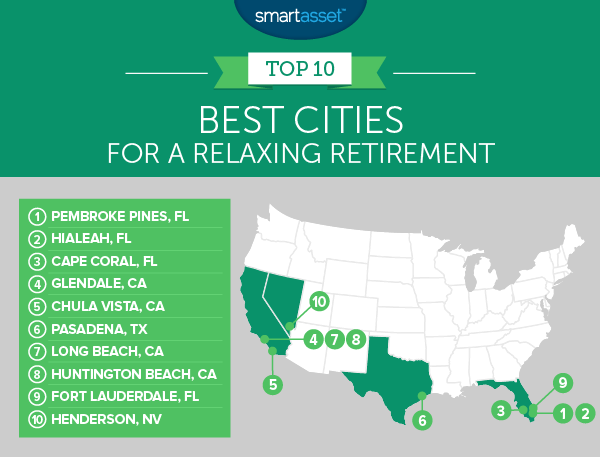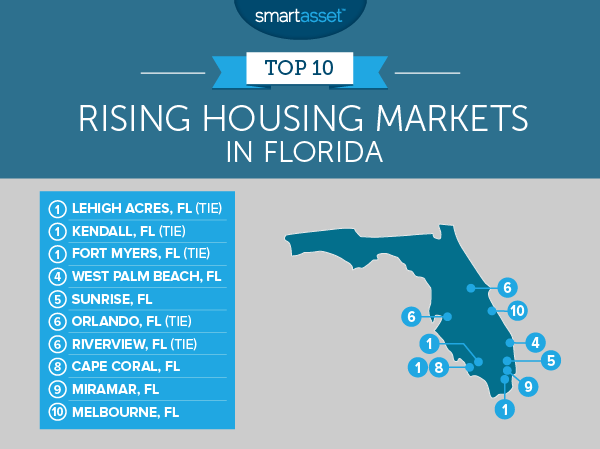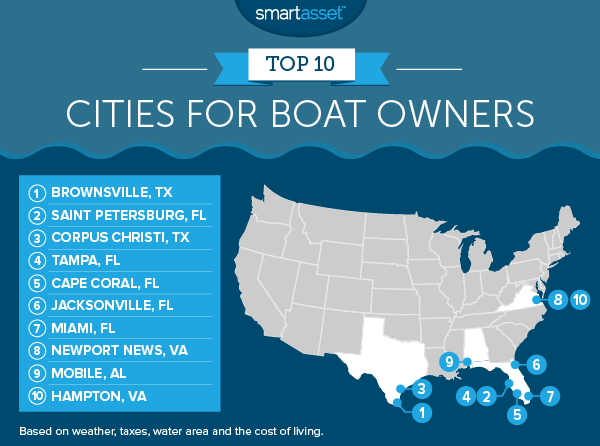 Arguments for a property purchase in Cape Coral
Cape Coral is expanding rapidly and is the fastest growing city in the U.S. according to Forbes. The reasons for this development are
an uninterrupted influx of new residents,
an above-average increase in jobs (Cape Coral is by far the leader in creating new jobs in the U.S.),
affordable real estate prices
huge, expandable urban areas
a dreamlike climate
a high recreational value
proximity of amazing beaches along the Gulf coast 77 (the beaches of Sanibel Island rank among the most beautiful world-wide).
In recent years, the population of Cape Coral has grown steadily by an average of 2.9% per year. Cape Coral was the city with the third largest population growth in the United States in 2017 and currently (2018) has about 175,000 inhabitants. It is expected to provide a home for 400,000 residents in its final stage of development. This means that Cape Coral still has its biggest growth spurt ahead of it, as only 47% of the possible residential and commercial areas were built on. Over 40,000 acres are still available for development. The growth rate of new buildings over the last 5 years was 7.1% per year (as of 2018), the gross national product rose by 5.2% (as of 2018). At 3.5%, the unemployment rate is below the U.S. unemployment rate of 3.8% (as of 2018).
For many prospective buyers and investors in a property in Cape Coral the question also arises: Should you buy an existing property or go the more adventurous route of building in Cape Coral?
Existing property or new construction in Cape Coral?
As so often in life, the answer is not so simple - it depends. During the real estate crisis, the answer was very easy: The first choice was an existing property in Cape Coral that had recently been built. Now that the real estate market has clearly recovered, however, the owners know very well what their property is actually worth in a changed market environment, especially as the selection of high-quality properties in good locations is increasingly limited and owners are hardly under any real sales pressure. So when should you buy an existing property in Cape Coral?
In order to answer this question, one must first of all look at the land prices in comparable locations. For example, off water lots in Cape Coral (i.e. without a freshwater canal or a canal with boating access to the Gulf of Mexico in the back) are offered at prices between $30,000 and $90,000, depending on the location. Prices for waterfront lots with Gulf access range from $150,000 to $300,000 (for really good locations in Cape Coral), depending on the length of the waterway to the Gulf. Top river locations in Cape Coral are around $600,000 and up.
For a good quality new construction home in Florida, a 3 bedroom villa with 2 bathrooms including pool, the costs are about $350,000. So for a total of $550,000 to $600,000 you get a brand new building with pool in a good location and boating access to the Gulf of Mexico. This is the benchmark in price comparison to the existing properties with a comparable location.
There are no limits to the construction of a new home in Cape Coral - all styles are possible, from super modern to luxurious to romantic: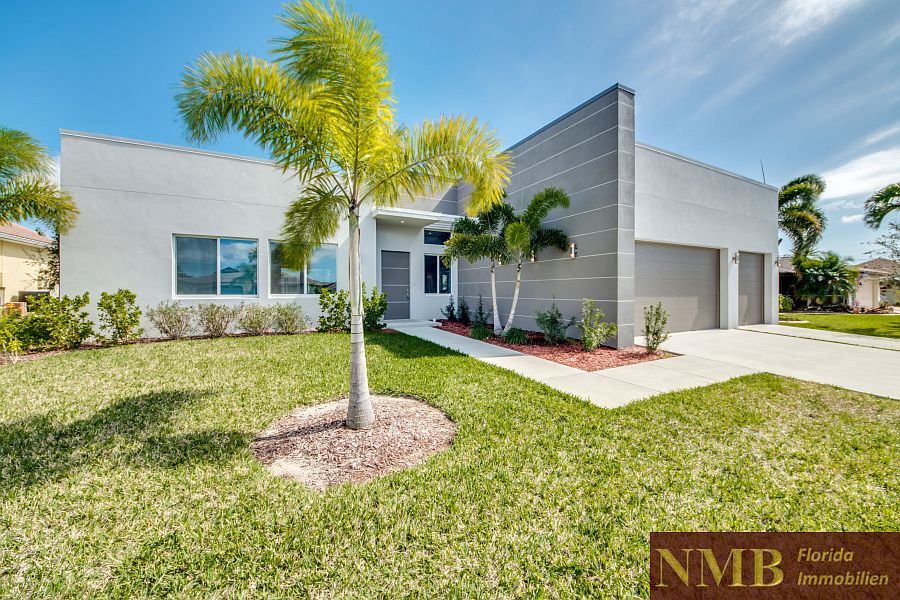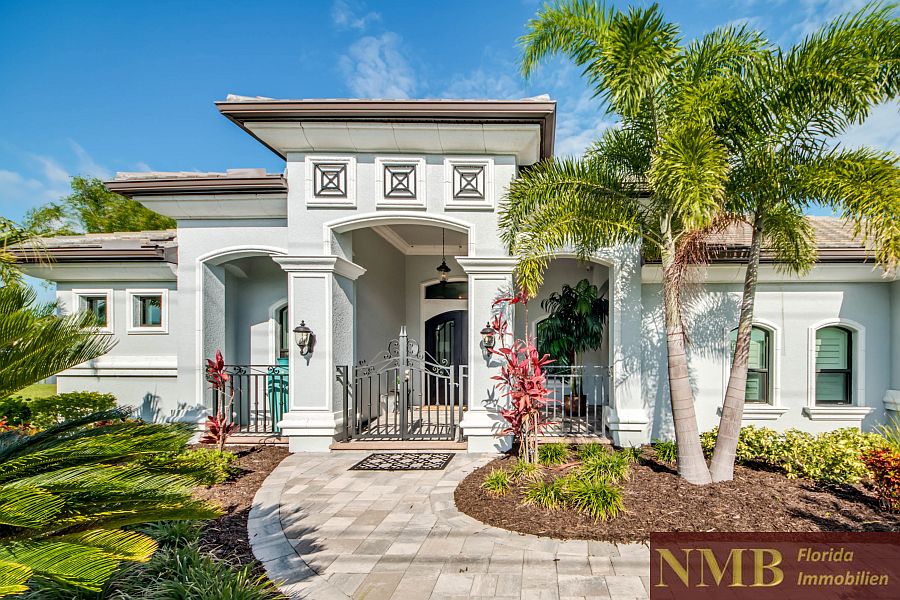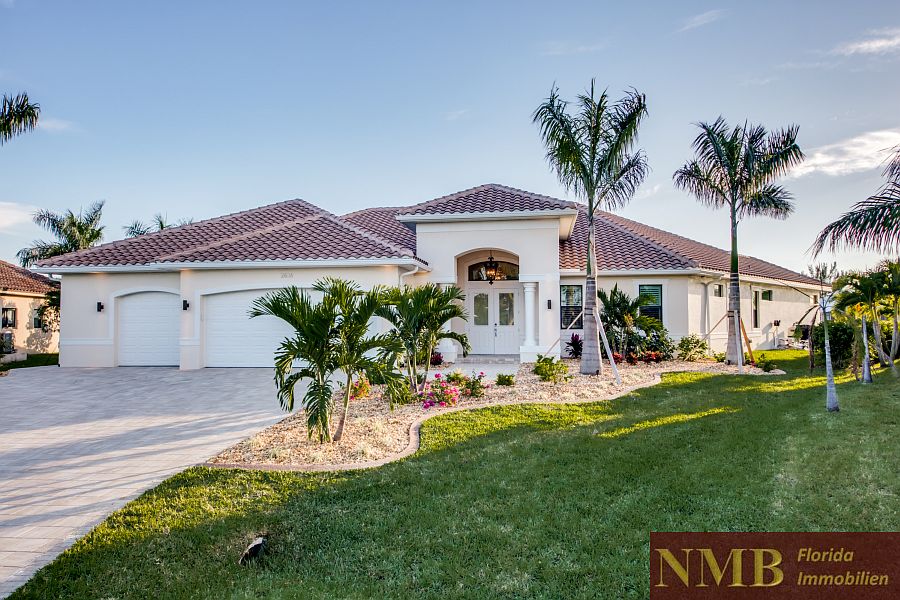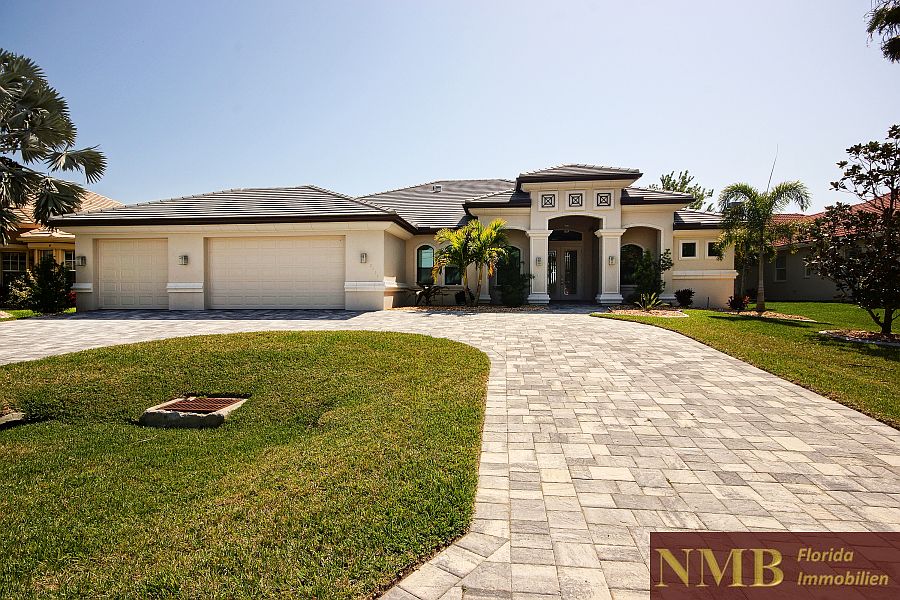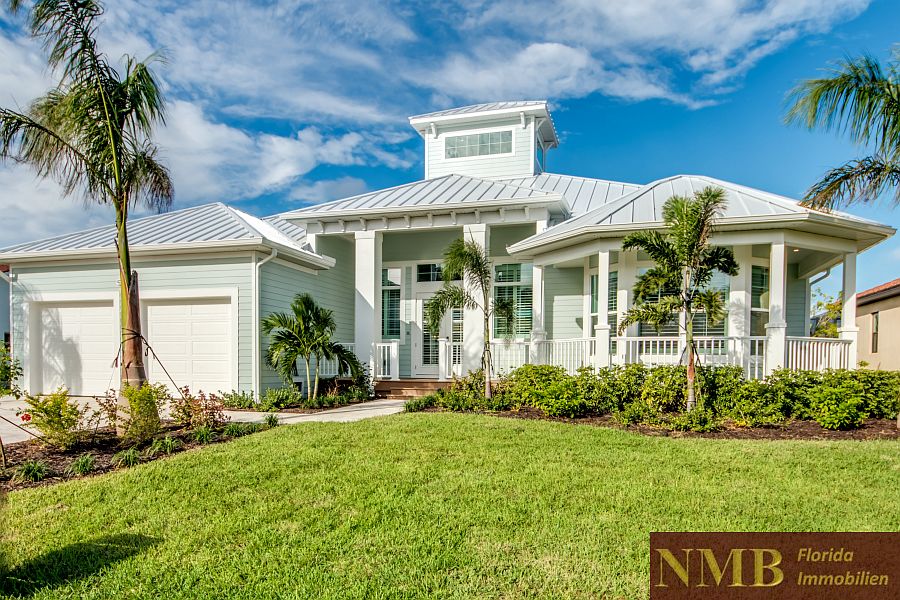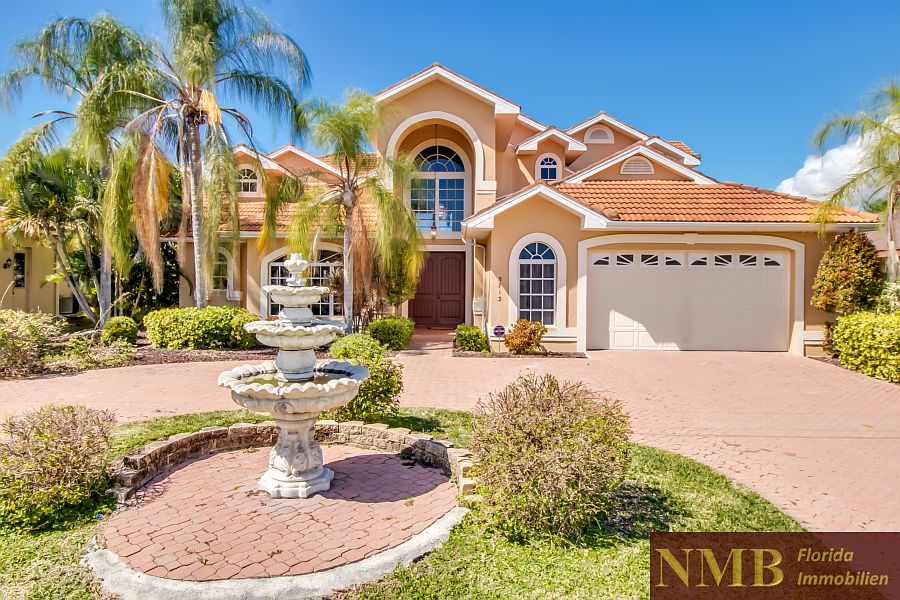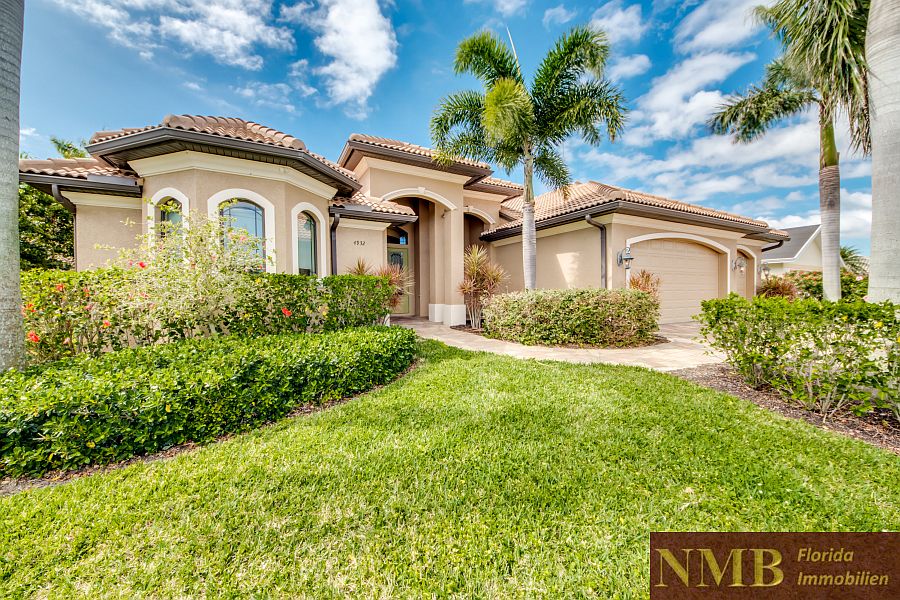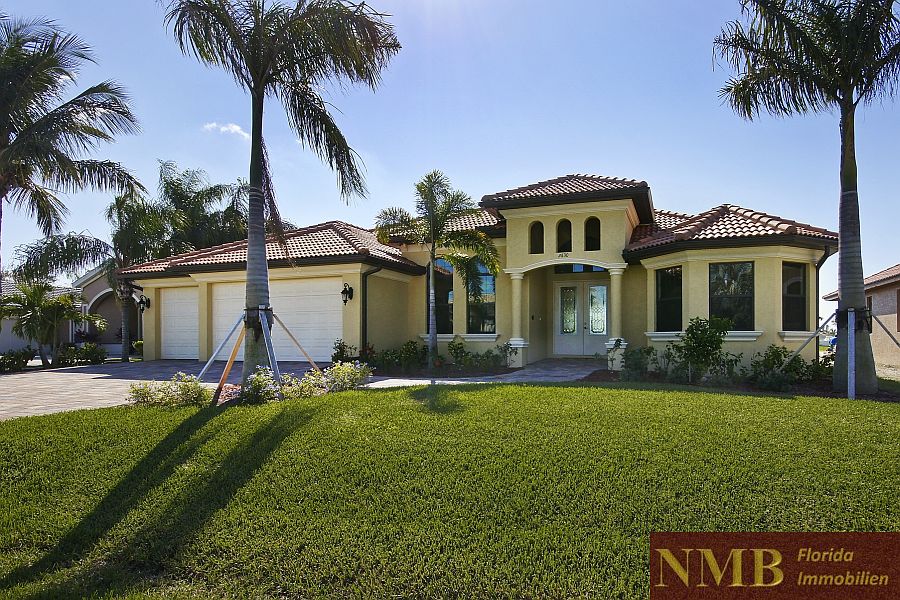 The price difference between an existing property and a new building in a similar location should be clear, since an older existing property inevitably requires repairs and wear and tear to be taken into account. It usually requires personal compromises with regard to room layout, design, equipment, etc. For example, if a good quality existing property in an interesting location costs around $500,000 and you would have to pay at least $300,000 for a piece of vacant land in this location, this existing property is a clear option, since a comparable new construction in this location (including land) would cost around $650,000. Even if this $500,000 existing property requires major refurbishment or additional investment to personalize it (flooring replacement, bathroom remodeling, extension or renewal of the boat dock, modernized kitchen, etc.), the investment is worthwhile:
Renovation of the bathrooms of an existing property in a prime location in Cape Coral: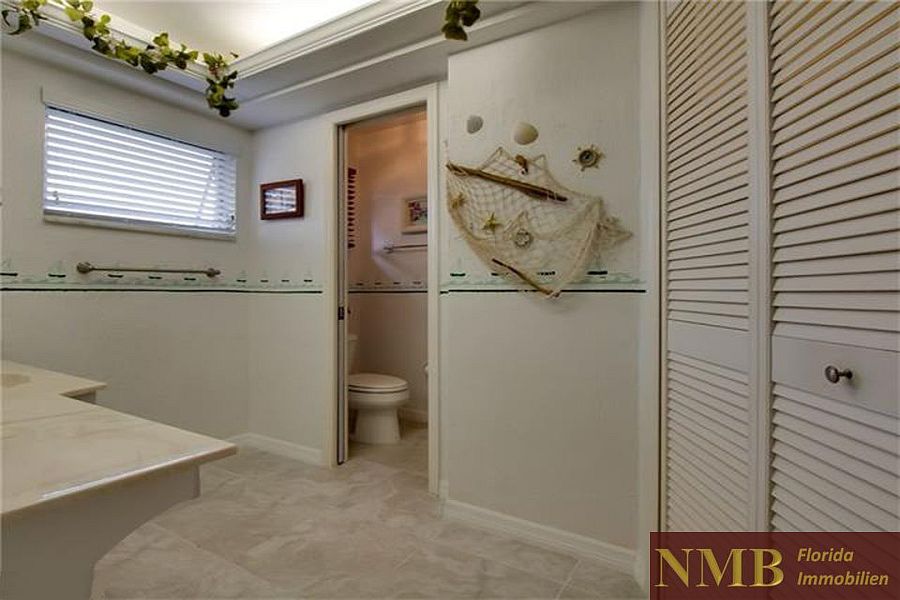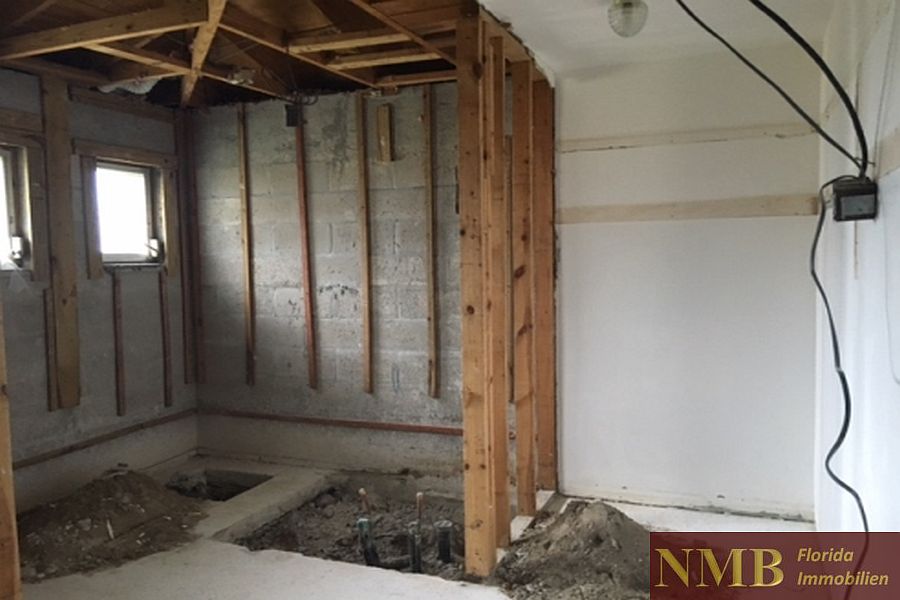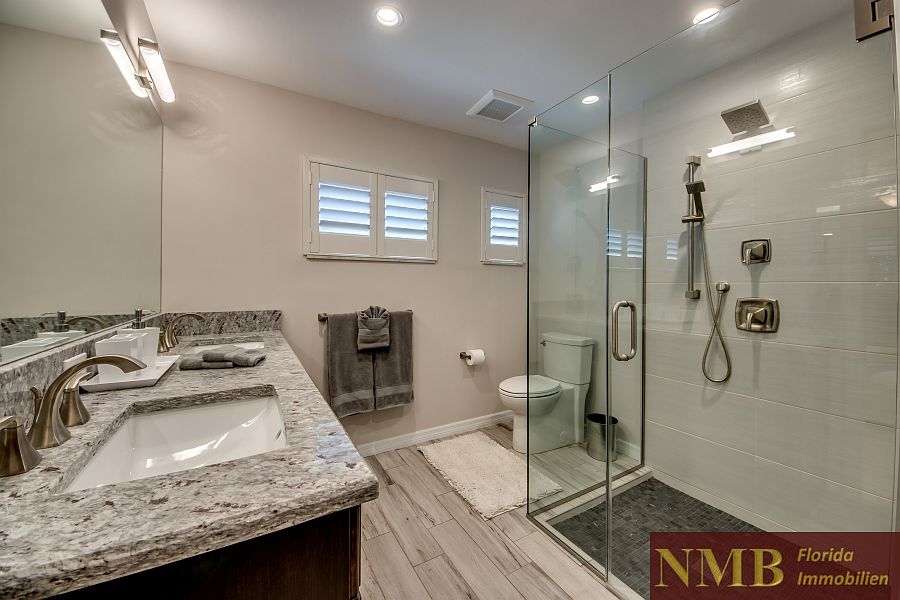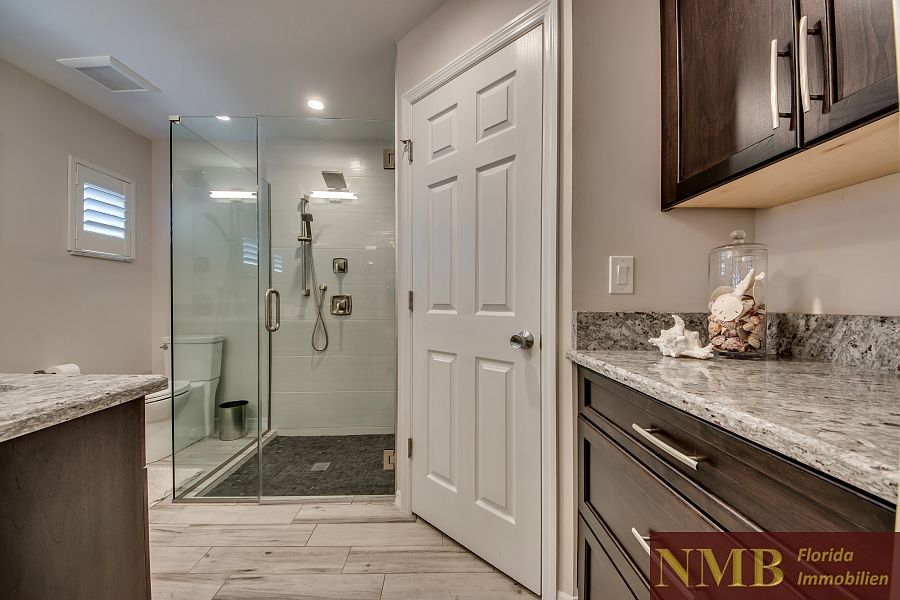 New construction would be preferable if the price of an existing property, based on its location, is too high or if any renovation work is unrelated to the location of the property. A brand new building undoubtedly has clear advantages:
Manageable additional costs
Individual design and room layout
Construction according to current, modern building standards
Energy-efficient, thermally insulated construction and energy-saving building technology
Warranty on the construction work
No unscheduled repair costs in the medium term
Lower insurance premiums
Very good marketing opportunities in the event of resale or rental
The decision between a new building in an average location and an existing property in a good to very good location at approximately the same price becomes particularly difficult. From an investment point of view, the price of the existing property will develop better in the medium and long term than that of the new building in an average location, as the property prices of the locations will develop differently in the long term. Since good and very good locations are only available to a limited extent and cannot be multiplied, the price of these locations will also develop more positively in the long term than that of an average location. However, taking into account the rental chances of a Cape Coral property for short-term rentals, the demand for vacation homes in Cape Coral with boating access to the Gulf of Mexico is very high. Many guests prefer the shortest possible boat trip to the Gulf. The close location to the river and the Gulf of Mexico is also favored by our renters for properties in off water locations. On the other hand, it does not matter to non-boating vacationers whether the distance to the Gulf is short or long, they just want to live by the water.
Where to buy a property in Cape Coral?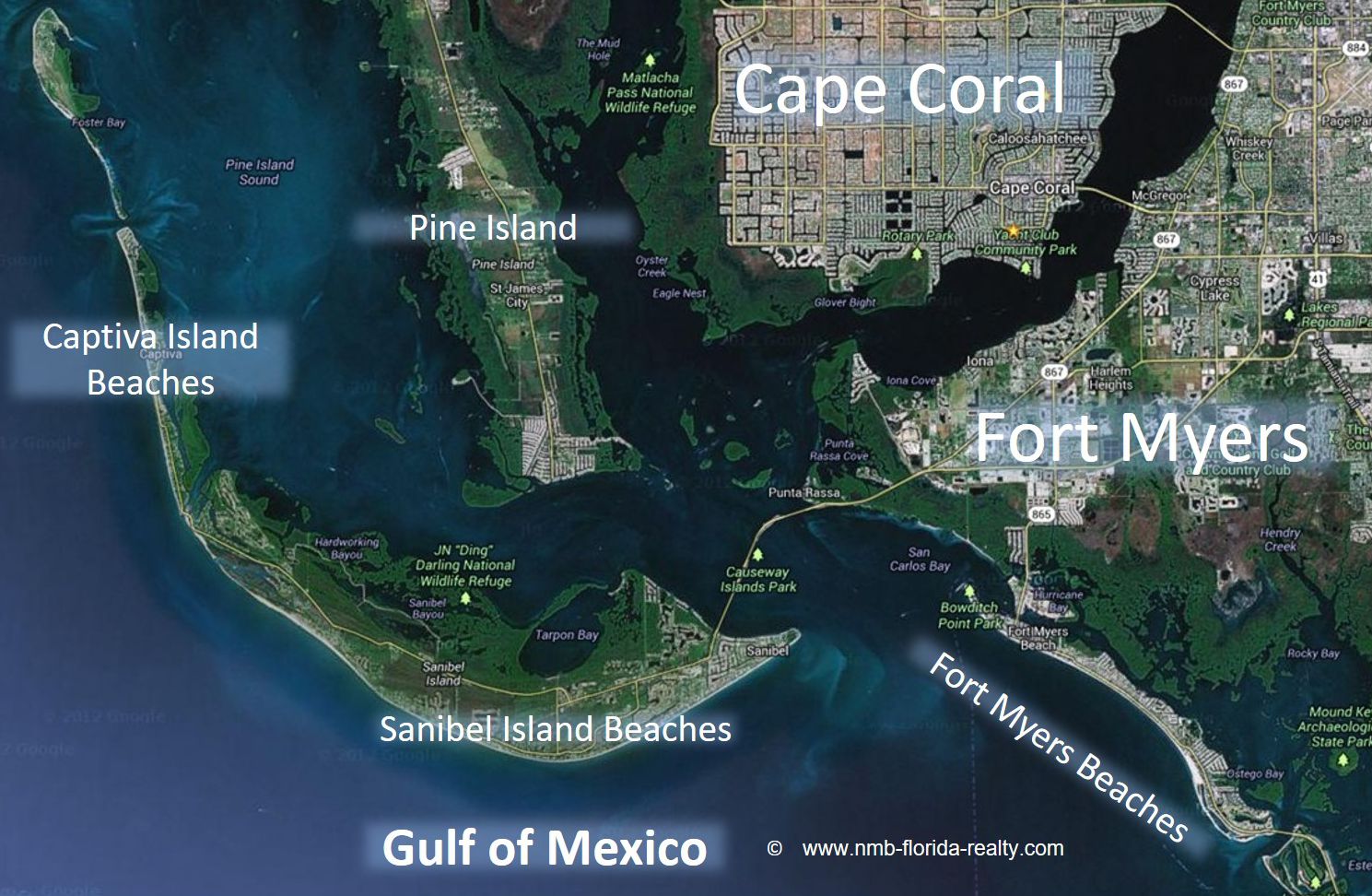 The Cape Corals road system is well structured. All Avenues, Boulevards, Courts & Places run from north to south, while Lanes, Parkways, Streets and Terraces run from east to west. The coveted areas with boating access to the Gulf of Mexico are highlighted in blue. Of course, the areas south of Cape Coral Parkway with a shorter distance to the Gulf of Mexico are particularly popular with boaters.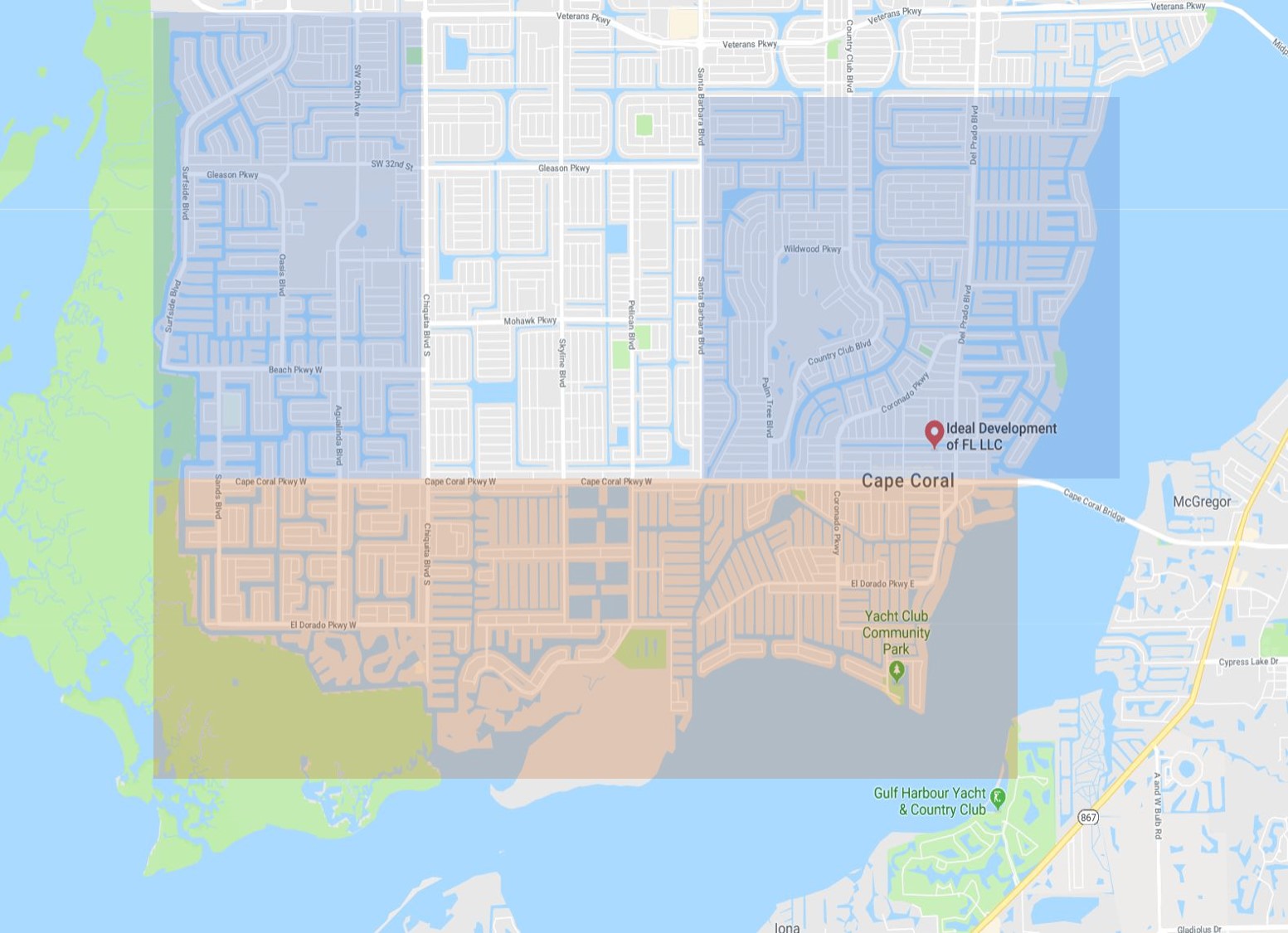 In addition to the southwest part of Cape Coral, the area around the old Yacht Club in the southeast is becoming increasingly important, not least because of its proximity to the future downtown area of Cape Coral. The supply of existing properties in this location is already scarce and vacant land even more so. In the future, the southeast will experience another significant boost as soon as downtown Cape Coral becomes a reality.
Future Downtown Cape Coral (Development Plan)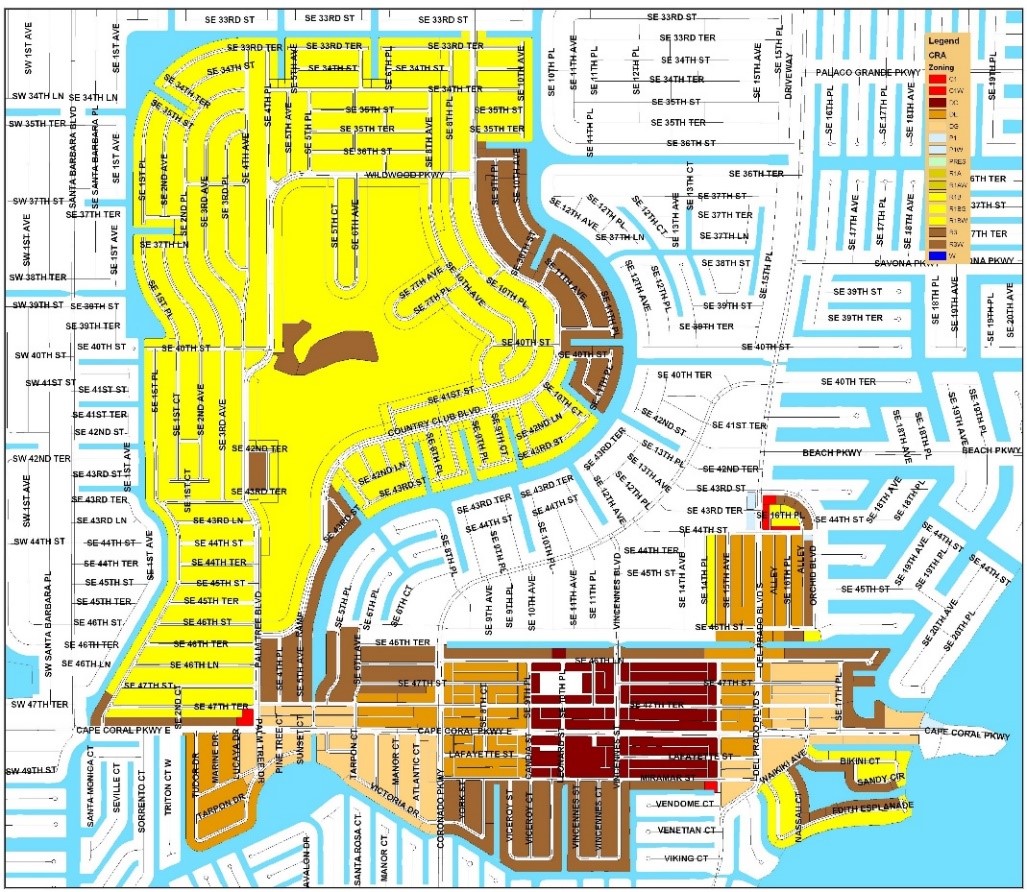 Future Downtown Cape Coral (Development Plan)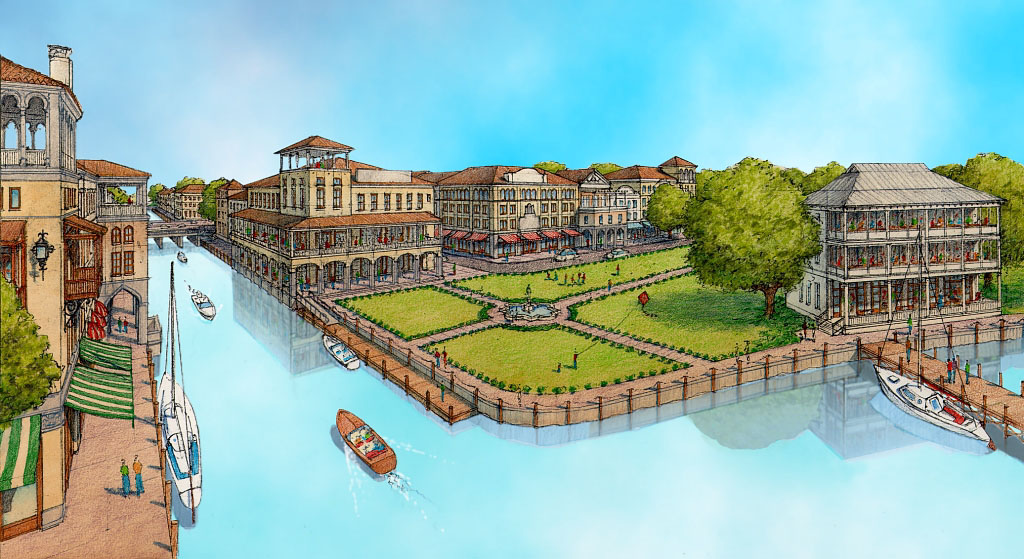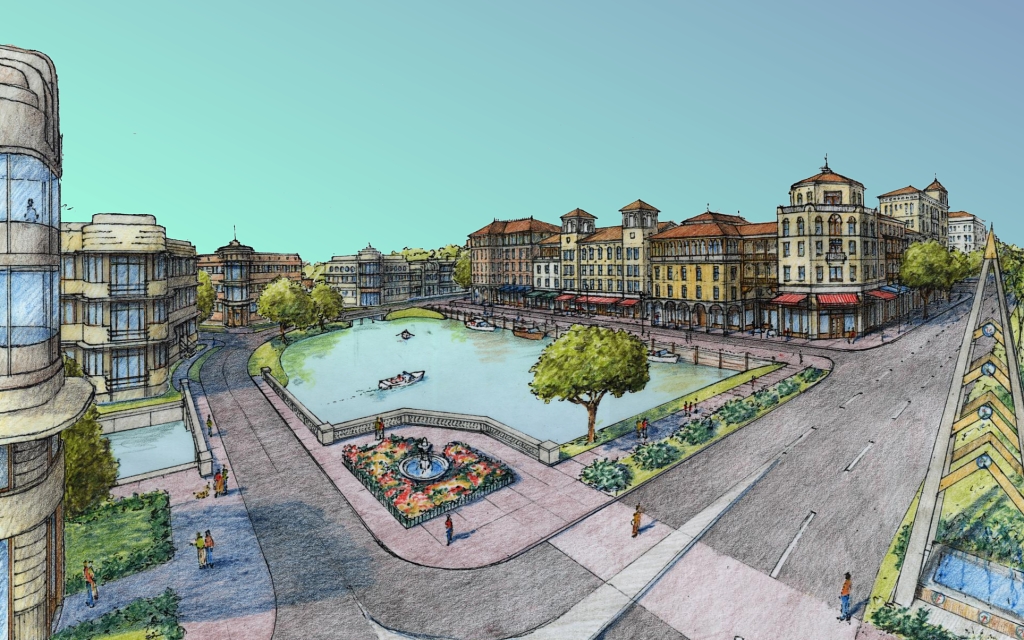 The preferred residential areas of Cape Coral are the old marina in the southeast (50s, early 60s, oldest core area south of Cape Coral Parkway), Gold Coast (east of Del Prado Boulevard, 60s and 70s) and the southwest (Southwest) between Pelican Boulevard and Chiquita Boulevard and south of El Dorado Parkway with more modern buildings from the 90s. The southwest around the marinas Cape Harbour and Tarpon Point Marina (Rosegarden Area) is one of the most exclusive residential areas.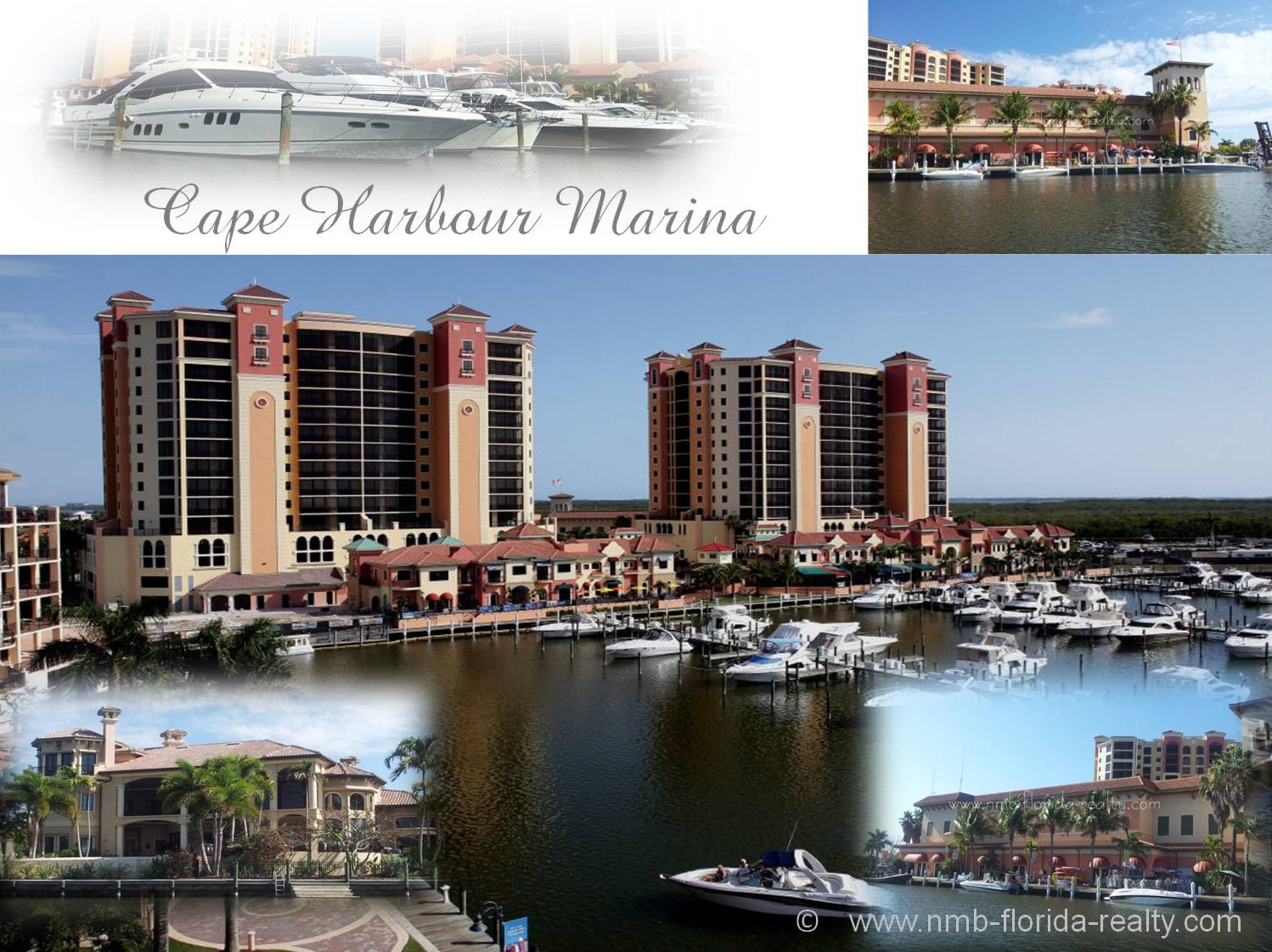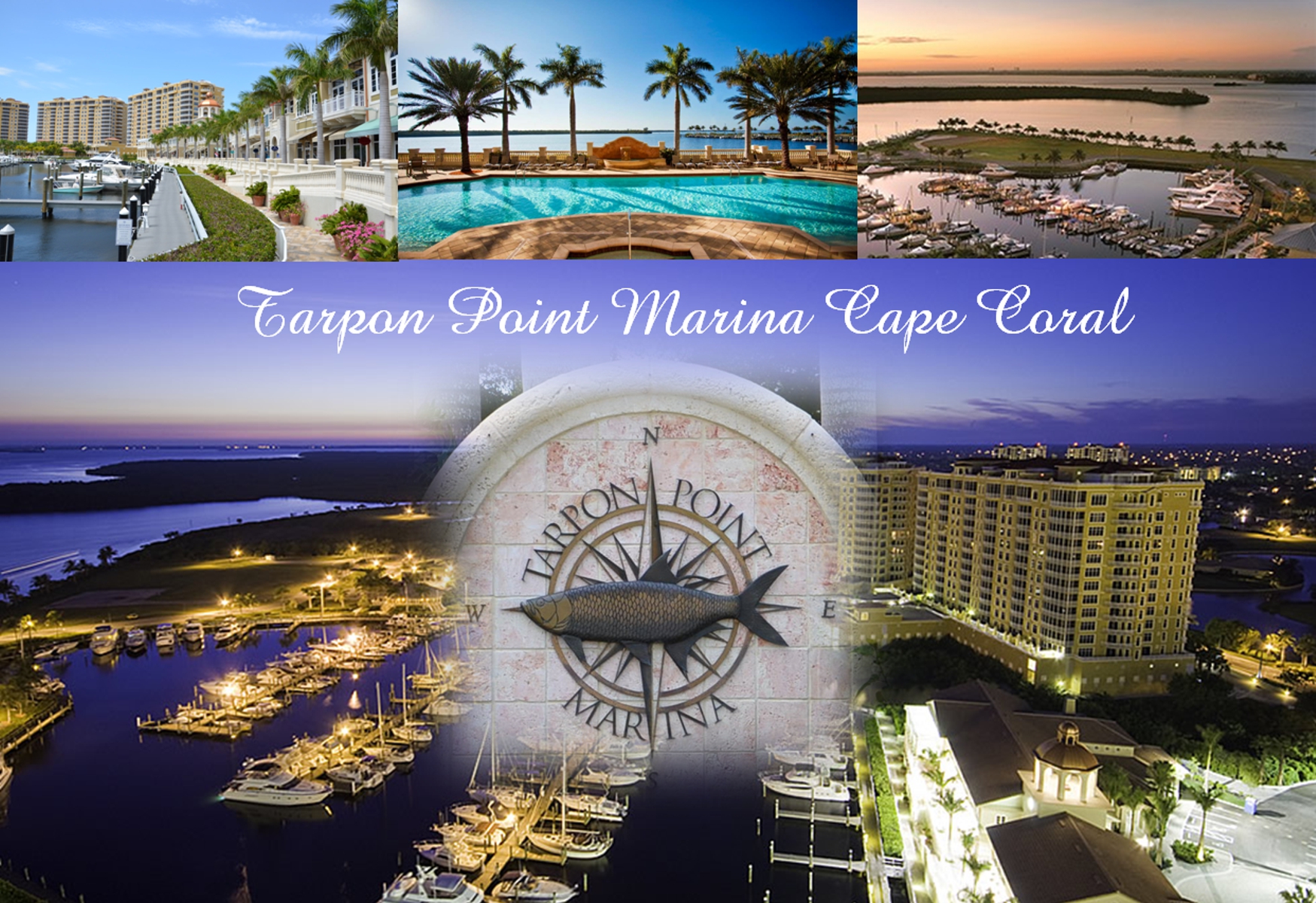 The northeast and northwest parts of Cape Coral are also being rapidly expanded. These areas are usually not yet connected to the city water and sewer system, or are currently being connected. Here too are canals with Gulf access, but bridges and boat lifts represent certain bottlenecks on busy days.
Let us advise you in detail about the most important criteria for a property purchase in Cape Coral. We know the market and its opportunities, but also its pitfalls. The $/EURO exchange rate is back on the European buyer side.
For current properties for sale ? please contact us !